Pulmonary Hypertension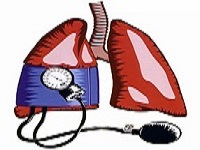 Submit Abstract
Register Now
Pulmonary hypertension or PH is high blood pressure that affects the arteries in lungs and the right side of the heart. In one form of pulmonary hypertension, tiny arteries in lungs and capillaries become narrowed, blocked or destroyed. This makes it harder for blood to flow through the lungs and thus raises the pressure within lung walls. As the pressure builds, the heart's lower right chamber works harder to pump blood through lungs, eventually causing the heart muscle to fail. Some forms of pulmonary hypertension are serious conditions that become progressively worse and are sometimes fatal. This session mainly talks about the classification, signs, symptoms, and treatments of the Pulmonary Hypertension.
Classification of Pulmonary Hypertension.
Signs, symptoms and causes of Pulmonary Hypertension.
Diagnosis by Echocardiography
Treatment and Therapies.
Related Conference of
Pulmonary Hypertension
Pulmonary Hypertension
Conference Speakers
Recommended
Sessions
Related
Journals
Are you
interested

in